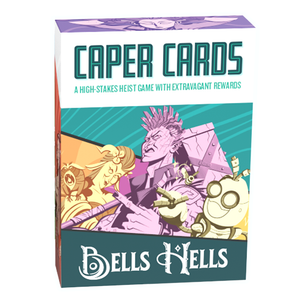 Caper Cards: Bells Hells
In this cooperative card game, assemble the Bells Hells adventuring party of Critical Role Campaign 3 to pull off a daring heist. You'll aim to play your Crew cards strategically as a team, hoping to exceed the value of the treasure you're pursuing without going over 21. Each Crew card bears gorgeous art of the teammate, the card's numerical value, and an ability, such as Chetney's ability to be played as either a 6 or a 9. Play is quick, with gameplay lasting around 20 minutes, and you can play it with up to 4 players, including a solo mode.
The game comes in a compact box containing 24 Crew Cards (3 of each member of Bells Hells), 1 Risk Card, 10 unique Reward Cards, and a Player 1 Marker Card. With these cards, players can work together to plan and execute their heist.
---
We Also Recommend